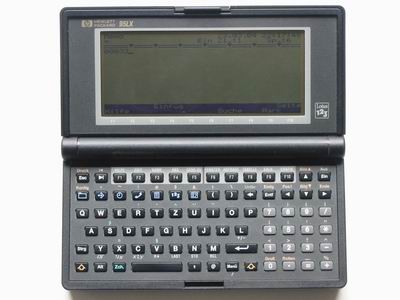 Serial number
ABD3151S00033: 1991, 51st week, Singapore (The "D" in "ABD" stands for the German version)

Accessories
Manual: HP-95LX Benutzerhandbuch (German, 1st edition, June 1991, very thick!)



Quick Reference: HP-95LX Kurzanleitung (German, 1st edition, May 1991)


Manual: Connectivity Pack für den HP-95LX (German, 1st edition, September 1991)



Manual: IntelliLink for Windows (English, 1992, 58 pages)



Software: Connectivity pack, HP 95LX zu IBM und IBM-kompatiblem PCs (three 5-inch disks, version 1.1)



Software: Connectivity pack, HP 95LX zu IBM und IBM-kompatiblem PCs (two 3-inch disks, version 1.1)


Software: IntelliLink for Palmtop Computer and Microsoft Windows 3.x, version 2.4 (one 3-inch disk)



Manual: HP Palmtop PC Accessory Guide (English, June 1993, 16 pages)



Manual: Software and Accessories for the HP-95LX Palmtop PC (English, German, French, Italian, Spanish, February 1992, 54 pages)



Connectivity pack cable, RS232 DB9 to HP-95LX

Condition
Very good! The battery lid latches broke off so that the lid is a bit loose.

Repairs, Comments
512 kByte RAM version.
Fixed the battery lid with transparent tape.

Acquired
10.3.2004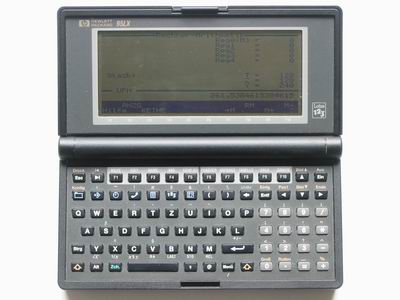 Serial number
ABD3141A00589: 1991, 41st week, America (The "D" in "ABD" stands for the German version)
Accessories
Manual: HP-95LX Benutzerhandbuch (German, 1st edition, June 1991, very thick!)


Quick Reference: HP-95LX Kurzanleitung (German, 1st edition, May 1991)


Paper envelope labelled "Important information enclosed", containing:


Paper envelope containing a small plate that can be used to engrave the owner's name and glue it to the back of the unit.
Registration card
Software and Accessories for the HP-95LX Palmtop PC (English, German, French, Italian, Spanish, April 1992, 54 pages)
Accessories for the HP-95LX Palmtop PC (English, January 1992)
Order sheet for a free issues of "The HP Palmtop Paper"




Original cardboard box including plastic inserts.

Condition
Excellent! Some small scratches on the back. Cardboard box in good shape.

Repairs, Comments
512 kByte RAM version.
Fixed the cardboard box with transparent tape.

Acquired
10.3.2004

HP codename, series
Jaguar

Type, Precision, Input mode
PDA, Personal digital assistent. Scientific calculator: 12 digits, exponent ±99.
Programmable
Yes, any 8086 compiler, MS-DOS 3.22.

Performance Index
262. This is slightly better than the HP-48g+ which uses RPL and was introduced 12 years later.

Memory
512kByte permanent RAM, used as main memory and RAM disk. Default RAM disk size is 256kByte. Up to 2 MByte of RAM by using a RAM card.
A 1 MByte RAM version existed as well.

Display
240x128 pixel, 40x16 character, black&white LCD

Hardware

CPU: NEC V20H at 5.37MHz (8088 compatible). Some sources report 4.77MHz.

Special features
Financial and scientific calculator (algebraic or RPN), Lotus 1-2-3 spreadsheet, appointment manager, address book, memo function, file manager, communications program.
Serial infrared interface, RS232, PCMCIA slot.

Original Pricing, Production
Introduced 4/1991. Other sources indicate introduction dates of 23.4.1991 and 2.3.1992.
Prices from $699 to $799, 1500 DM.

Batteries
2xAA or external DC power supply. One large button sized cell for backup.


WARNING

: Reportedly, inserting the batteries in reversed orientation can destroy the unit!

Dimensions
Length 8.5cm, Width 15.9cm, Height 2.6cm (closed)

Links
HP 95LX User's Guide, PDF, English, 826 pages, Edition 2, June 1991
Connectivity Pack User's Guide, PDF, English, 61 pages, Edition 1, April 1991
I/O Application Note (Serial Communications), PDF, English, 13 pages , Edition 1, April 1991
Brochure 1, PDF, English, 21 pages, Jan 1992
Brochure 2, PDF, English, 21 pages, Mar 1991
External Links
SUPER (Palmtop.net)
Technical Information (by Daniel Hertrich)
RSkey.org.
In general, there's a large amount of resources available on the internet for the HP-95LX.



Writing your own program for the HP-95LX.

Comment
A very nice unit. Especially the possibility to write own programs an the PC and transfer them to the HP-95LX opens many possibilities.

.